6XG Stream Replicator & Modifier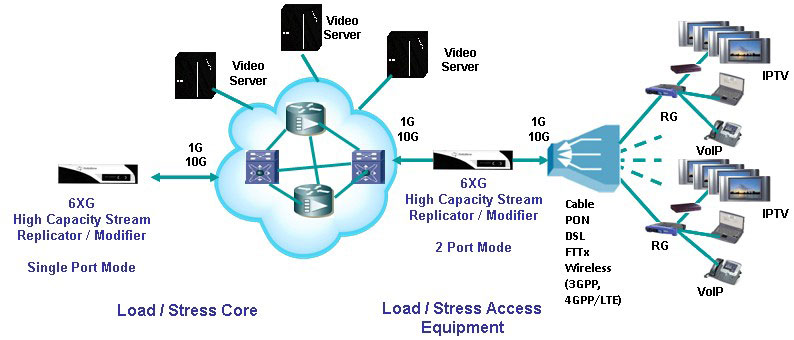 6XG Stream Replicator & Modifier
PacketStorm
Test & Emulation
Network Emulator
The PacketStorm6XG High Capacity Stream Replicator generates any kind of streams. Probably the biggest application is to generate video streams. To generate streams, the 6XG replicates one or more input video streams and outputs up to 4000 video streams.
The PacketStorm6XG stream replicator maintains all of the timing characteristics of the original streams which is critical for testing.
The product accepts up to 48 input streams and replicates them exactly with different header information to make thousands of unique streams. Load and stress test network and access equipment with real video not synthetic video traffic. Eliminates the need for large number of servers or encoders to generator high capacity video. Replicated streams are treated just like streams from real encoders and servers. Many switches and routers are video aware and need to be tested with real video traffic. One unique feature of the replicator is that streams can be added and deleted during emulation. This dynamic capability provides a way to simulate different applications such as ad insertions and defense targets.
The 6XG replicator can replicate almost any stream such as: video (standard definition, high definition, multicast, unicast, MPEG2-TS, encrypted, non-encrypted, SPTS, MPTS), audio, VoIP, and data. The available modifiers include: Source Address, Destination Address, Source Port, Destination Port, VLAN, Source MAC Address, Destination MAC Address, and DSCP. An extra feature is to impair streams by using Drop, Bit Errors, and Bandwidth Rate Throttle.
Features
Easy-to-use GUI
Line Rate 1G or 10G
Up to 48 Input Streams
Up to 4000 Output Streams
Sequential or Non-Sequential Addresses
Maintain Original Stream's Characteristics
Replicate Live Streams
Modify Source & Destination Addresses & Ports
Modify MAC & VLAN
Recalculate CRC, IP, & UDP/TCP Checksums
Automatic Multicast MAC Address Caculation
IGMP v2 & v3 Join/Queries
Applications
Emulate Large Video Farm
Modify Live Video Stream Addresses
Stress Test QAM Gateways
Stress Test DSLAMS
Datasheet & Literatures:
Stream Replicator & Modifier