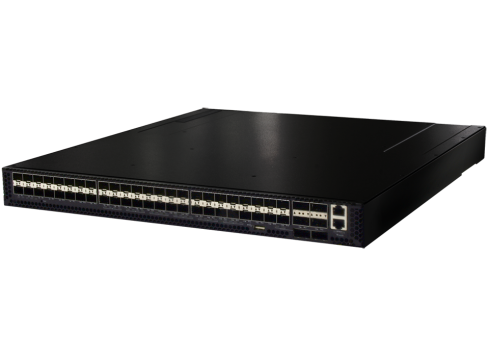 AS5712-54X
Edgecore
Network Connectivity
Open Networking
10GBE DATA CENTER SWITCH
Cost-effective, bare-metal switch infrastructure for data center fabric.
48 x SFP+ switch ports, supporting 10GbE (DAC, 10GBASE-SR/LR) or 1GbE (1000BASE-T/SX/LX).
6 x 40 QSFP switch ports, each supporting 40GbE (DAC, 40GBASE-SR4/LR4) or 4 x 10GbE (DAC or fiber breakout cable).
Port Grouping to group 4 x 10G ports into one 40G port at the physical layer for maximum bandwidth utilization, and for 300m optical reach over MMF (Subject to NOS options).
Full line-rate Layer 2 or Layer 3 forwarding of 720 Gbps.
VXLAN and NVGRE tunneling support in hardware for network virtualization.
Rack mountable in standard 19" racks. Mountable in 21" Open Rack with the Open Rack Switch Adapter.
Supports hot/cold aisle with port-to-power and power-to-port airflow SKUs.
All ports on front; PSUs, fan modules on rear.
Hot-swappable, load sharing, redundant AC or -48 VDC PSUs. 12 VDC power input option.
Hot swappable 4+1 redundant fan modules.
Management: Ethernet and console RJ-45 ports; USB storage port.
Hardware switch pre-loaded with Open Network Install Environment (ONIE) for automated loading of compatible open source and commerical NOS offerings. AS5710 SKU and AS5712 SKU compatible with Open Network Linux (ONL), the open-source, OCP reference NOS.
AS5710 SKU and AS5712 SKU compatible with Big Monitoring Fabric™ and Big Cloud Fabric™ SDN applications from Big Switch.
AS5712 SKU compatible with Cumulus® Linux® r2.5.1 and later version from Cumulus Networks®.
AS5712 SKU compatible with OpenSwitch the open-source NOS.
AS5712 SKU compatible with PicOS™ r2.6 and later version from Pica8 Inc.
AS5712 SKU compatible with SnapRoute FlexSwitch software.
AS5712 SKU compatible with Pluribus Open Netvisor Linux V2.5 or later.
Ports
48
Predominant Port Type
10GbE RJ45
High Availability
Redundant Power Supply
Redundant Fans
Compatible Software Option
Cumulus Networks - Cumulus Linux
Big Switch Networks - Big Monitoring Fabric
Big Switch Networks - Big Cloud Fabric
Open Compute Project - Open Network Linux
Pica8 - PicOS
Linux Foundation - OpenSwitch
SnapRoute - FlexSwitch
Pluribus Networks - Open Netvisor Linux