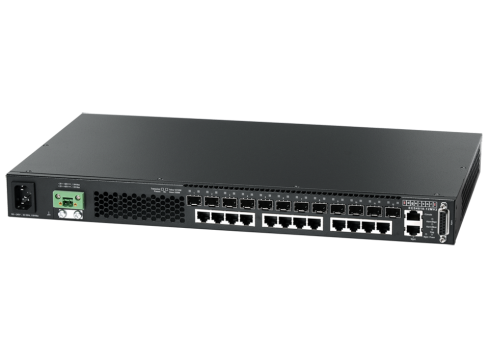 ECS4810-12M
Edgecore
Network Connectivity
Enterprise Switch
L2 GIGABIT ETHERNET CARRIER GRADE SWITCH
Carrier-class design -  ECS4810-12M is a carrier grade aggregation switch consists of 12 Combo Gigabit Ethernet ports.
Continuous Availability - The ECS4810-12M supports G.8032 Ethernet Ring Protection Switching with the ability for the network to detect and recover from incidents without impacting users, meeting the most demanding quality and availability requirements. Rapid recovery time when problems do occur is as low as 50ms.
Service Monitoring and Management - The ECS4810-12M supports IEEE 802.1ag Connectivity Fault Management (CFM) and ITU-T Y.1731, allowing service provider to monitor end to end services, identify connectivity and performance issues and isolate the problem from a remote location without dispatching engineer onsite.
Advanced Synchronization - ECS4810-12M provides synchronization options optimized for cellular operators looking to backhaul their data and voice traffic from the BST to their core network over Ethernet transport.
Comprehensive QoS - ECS4810-12M supports Three Color Marker and Policing Single rate: Committed Information Rate (CIR) Two rate: CIR + Peak Information Rate (PIR) Traffic Policing: Drop or remark the priority tag of packets exceeds burst size
Virtual Private Network - ECS4810-12M supports L2 VPN by using QinQ functions in which an 802.1Q tag from a customer VLAN (called CE-VLAN ID) is encapsulated in a second 802.1Q tag from a serviceprovider network (called an SP-VLAN ID).
Switch Type
Fixed Port
Routing/Switching
Layer 2
Features
Fanless
IPv6 Management
Predominant Port Type
Gigabit Copper
Gigabit Fiber
Enterprise Switches L3 Switches
Carrier Series: ECS4810-12M