Full Duplex 100Gbps Ethernet adaptor fbC2CGg3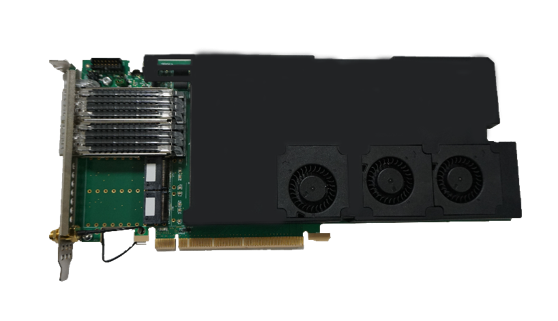 Full Duplex 100Gbps Ethernet adaptor fbC2CGg3
Silicom
Network Monitoring & Capturing
Network Monitoring Adapter Card
Capture Card – Dual QSFP28 port card supporting 2x100G Ethernet, half-length, PCIe Gen3 16 lanes
The Silicom Denmark fbC2CGg3 is a powerful half length accelerator card featuring two QSFP28 slots, providing network connectivity and high speed capture to host memory with zero packet loss and packet processing. The 2xQSFP28 slots support configurations with data rates of 8x10GE, 2x40GE, 8x25GE or 2x100GE, while supporting a bandwidth to host system of over 200 Gbps. Dedicated firmwares are offered for each link speed.
The fbC2CGg3 is mounted with the latest Ultrascale Xilinx FPGA technology, providing packet filtering, advanced processing, traffic management, load balancing and host offloading mechanisms, to a wide range of applications. In addition to this, Tx capabilities are also supported for traffic redirection and selective bypass.
The card is a single-slot PCIe solution for a 16-lane PCIe slot, and features an optional 2nd 16-lane PCIe connector for connecting to a 2nd PCIe slot. The 16-lane connections are via 2×8 lanes using bifurcation. With its two PCIe connectors, the card can offer traffic load balancing and application acceleration optimized for NUMA environments, bypassing the QPI bridge.
This card is also available as a cost optimized variant for 10GE and 40GE.
Network I/F
Physical I/F: QSFP28 x 2
Media rate:IEEE802.3 10/25/40/100GE
Number of ports:
QSFP28:100Gx2, 25Gx2, 50Gx2
QSFP+ :40Gx2, 10Gx8
Supported media
QSFP28:
– 100GBASE-SR4 /100GBASE-LR4 / 100GBASE-PSM4 / 100GBASE-CWDM4 / 100GBASE-CLR4 / 100GBASE-CR4 / 100GBASE-ER4 x 2
– 25GBASE-SR / 25GBASE-LR / 25GBASE-CR x 2
(Coming soon:
50GBASE-SR2 / 50GBASE-LR2 / 50GBASE-CR2 x 2)
QSFP+:
– 40GBASE-SR4 / 40GBASE-LR4 / 40GBASE-PSM4 / 40GBASE-IR4 / 40GBASE-CWDM4 / 40GBASE-ER4 / 40GBASE-ZR4 / 40GBASE-CR4 x 2
– 10GBASE-iSR x 8
External bus
Onboard memory
Performance
Capture rate: Line rate (burst and continuous)
Delay
Adapter to host memory:3.2ns or less
Host memory to adapter (Tx port):3.2ns or less
Timestamp
Resolution:3.2ns
Accuracy:20ns or less
Time synchronization
PPS synchronization(SMA connector)
PTP client synchronization(RJ45)
PPS synchronization by coaxial cable connection (SMA connector) between multiple adapters
FPGA firmware
Fail-safe dual boot image
On-site upgrade with API utility tools
Hardware specification
Dimention:111x254mm(Full Height, 3/4 Length)
Weight:320g
Working environment
:0-55℃
:20-80%
Environmental requirements:RoHS、CE
Hardware monitor function
On-board temperature sensor
On-board multicolor status LED
Port link status LED
(Information can be acquired by API)
SOFTWARE API
Common API for all Fiberblaze adapters
WinPCAP, LibPCAP compatible
C compatible API(DLL/Shared library)
Windows、Linux、FreeBSD driver included
Multi DMA access via packet ring buffer (PRB)
Up to 64 channels of host buffer (ring buffer)
Up to 255 channels of traffic redirection function
Error handler function
No additional SW library
SERVER LOAD BALANCING
Up to 64 DMA channels
Load distribution is realized by assigning packets from each channel to multiple host processors (CPUs)
Copy the received same stream to multiple DMA channels
N, 2, 3, 5, N tuple hash and filter rules can be applied within the adapter without using host resources
NETWORK CONNECTIVITY
Media rate: 10 M, 100 M, 1 G, 10 G, 25 G, 40 G, 100 Gbps (depending on the model)
Supported media modules: SFP, SFP +, QSFP +, CFP 4, QSFP 28 (depending on model)
Supports acquisition of stream via SPAN port and L1 TAP
Ethernet media auto-negotiation function
Supports connection by span / mirror port and inline TAP
PERFORMANCE
Capable of line rate capture with or without hardware filter
Supports PCIe Gen 3, Gen 2, Gen 1 as external bus
FILTERS
Comprehensive hardware filter function that can be defined / integrated in real time (various functions such as range filter, pattern filter, match filter, True or False are also provided)
Link layer
ARP, Tunnels(L2TP), MAC, VLAN incl. VLAN in VLAN, MPLS, etc.
Internet layer
IPv4, IPv6, ICMP, RIP, OSPF, ECN, etc.
Transport layer
UDP, TCP, SCTP, etc.
Application layer
FTP, HTTP, LDAP, POP, RTP, SIP, SMTP, Telnet, GTPv 1 + v 2, RNSAP,
RN via SIGTRAN, GTP-U payload header, etc.
Error packet
PACKET SLICING
Comprehensive packet slicing function to save memory and storage capacity
Fixed length
Dynamic slice with specific header and user defined offset
PACKET DESCRIPTOR
Give the following packet header on the adapter
PCAP header
Extended header various
PACKET PROCESSING
It is possible to parse and normalize all common protocols including GTP Layer 2-5. With each field, the dynamic offset function allows the host application to directly access the relevant fields without having to process the protocol stack. Reduce the use of host resources and speed up applications.
DE-DUPLICATION
Delete duplicate packets on the adapter. Reduce unnecessary processing on the host, enabling faster applications.
IP DEFRAGMENTATION
Fragmented IP packet reconfigured on adapter. Reduced consumption consumption of host CPU.
NETWORK STATISTICS
RFC 2819 Statistics function compliant with RMON 1 subset, each statistical information provided at 1 second intervals
Network counter:
Number of octets, number of CRC array errors, number of under size packets, number of oversized packets, number of Java packets, others
Provide separate counter for each interface
Acquired via API
ON BOARD SENSOR READINGS
Temperature (current, minimum, maximum)
Optical module output
Port link state
Acquired via API