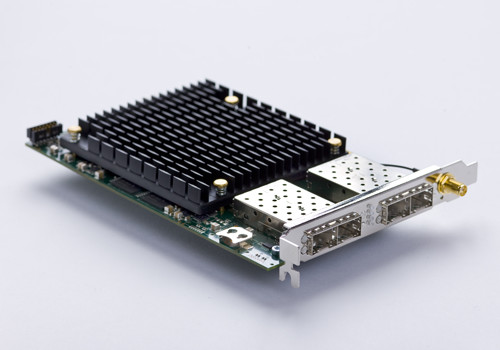 fbC4XGg3
Silicom
Network Monitoring & Capturing
Network Monitoring Adapter Card
Capture Card- Quad port SFP+ capture card supporting 4x10GE, PCIe Gen3 x8 lanes
The Silicom Denmark fbC4XGG3 is a 4x10GE capture card that performs at full line rate with zero packet loss, on all four interfaces. Even while providing the full suite of features offered via fbCAPTURE API.
With its PCIe Gen3 support, it is without bottlenecks, and is ideal for interfacing to multiple 10 Gigabit Ethernet links. This can be as individual links or in a load-sharing or redundancy configuration, directly from network taps, via SPAN ports or similar devices.
It is a high performance OEM hardware platform with four SFP+ ports, allowing for optimal flexibility in connectivity. The card allows utilization of the transmission capabilities of these in conjunction with fbCAPTURE features.
The fbC4XGG3 is part of the fbCAPTURE family which provides a powerful and flexible Software API, as well as standard libpcap integration. Through the integration of fbCAPTURE API, applications gain support for all fbCAPTURE cards, covering Ethernet speeds from 1GE to 100GE.
fbC4XGg3 -Capture Card:
10 Gbit/s Ethernet, IEEE 802.3
4x10GE ports via 4 x SFP+ ports
Capture at full line rate on all interfaces
Precision timestamping
3.2 nano second resolution
Micro second latency
PCIe Gen3, 8 lanes
fbCAPTURE API
Hardware filtering and distribution
Application acceleration and scalability
64 logical channels to DMA or egress via Tx
HOST INTERFACE
Physical bus connector: 8-lane PCIe
PCIe bus type: 1-8 lane PCIe Gen1/Gen2/Gen3
PCIe compliant
64 logical channels that can be connected to DMA or egressed to physical output ports
ON-BOARD MEMORY
8 GB (2x4GB 64 bit DDR3)
PERFORMANCE
Capture rate (card internal): Full line rate
Capture rate (bursts): Full line rate
Capture rate (sustained): Full line rate
Transmission rate (inline host DMA): Full line rate
Transmission rate (inline bypass): Full line rate
Transmission rate (daisy chain): Full line rate
LATENCY
Less than 3 μs to host memory
Less than 3 μs from host memory to Tx
Non-blocking sending, allowing user applications to operate independently
TIME STAMPING & SYNC
Resolution = 3.2 ns
Accuracy down to 20 ns
Optional external synchronization via PPS
Customization for PTP IEEE 1588-2008 RJ45
Master/slave time sync between multiple cards
NETWORK INTERFACE
IEEE standard: IEEE 802.3 10 Gbit/s Ethernet
Physical interface: 4 x SFP+ ports
Supported SFP+ modules:
Multimode SR (850 nm)
Multimode LRM (850 nm)
Singlemode LR (1310 nm)
Singlemode ER (1310 nm)
Singlemode ZR (1310 nm)
Direct Attached Copper (Twinax)
Data rate: 4 x 10 Gbit/s.
Ethernet PHY directly embedded in FPGA for full packet control
CONFIGURATION
Dual boot images with automatic fallback to fail-safe image
Full firmware upgrades via supplied tools or fbCAPTURE API
ENVIRONMENT
Physical dimensions: Half length, standard height
PCIe: 111 x 169 mm
Weight: 268g
Operational power consumption: Less than 39W
Operating temperature: 0 – 55°C, 30 – 130°F
Operating humidity: 20 – 80%
Hardware compliance: RoHS, CE
Passive cooling (No on-board fan required)
ADDITIONAL BOARD SUPPORT
fbCAPTURE API
On-board temperature sensor
4 Multi-color status LEDs
Link and Activity LEDs for each port