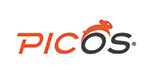 PicOS
Pica8
Software-Defined Networking (SDN)
SDN OS
PicOS includes:
A Layer-2 protocol stack featuring MLAG
Full Layer-3 protocol support including OSPF, BGP and multicast
Support for OpenFlow, OVSDB, and key SDN protocols
Integration with market-leading SDN controllers including HP VAN, ONOS, OpenDaylight, and Ryu
Simple device provisioning and management via ZTP, CLI, DevOps automation tools, and a standard Linux shell
Licensing
PicOS is obtained through an easy one-time, perpetual software license model.
You can choose from three PicOS editions: switching, routing, and OpenFlow (see PicOS Editions table below).
PicOS is certified to run on white box switch hardware from our hardware compatibility list.
Three Editions to Leverage
A base configuration starts with the Linux Switching OS package. For additional functionality, select either the Routing or OpenFlow Editions, or the PicOS Bundle depending on your use case.
Deployment:
Pica8 in Your Remote or Branch Office
When they're hacked or unavailable for any reason, your revenue stops cold. The IT Apps serve and support every aspect of operations, from marketing products and services, to sales, production, delivery, inventory, collections, payments, accounting and communications with customers. Would you like to guarantee their availability?
---
Industry Solutions:
-
---
Datasheet & Documents: